By: Libby Sanchez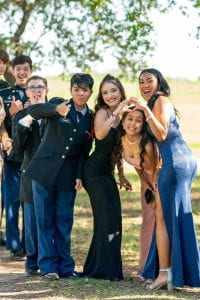 This month has been crazy busy for the Pleasanton High School ROTC group. They ended March with one of their biggest events, the Military Ball. They hosted it at Strawberry Pines in Poteet on March 25th, and had a magnificent turnout. Cadets did a phenomenal job planning this event and following through with a very successful night, full of laughs and a good time. They went as far as reaching out to a guest speaker, Colonel Phil Palmore, and inviting him to this event. His speech is something for these young cadets to hold on to for years to come. Students dressed to impress for the Ball, and many went home as winners of the Royal Court. Daylan Aguero and Taliah Garcia won Lord and Lady. Rion Ochoa and Leah Torres won Dutch and Dutchess. Wally Ramirez and Alyssa Castelar won Prince and Princess. The role of King and Queen was given to Valdemar Herrera and Natalia Jones. A huge accomplishment given to these cadets who deserve it!
The first weekend of April was a competitive one for the Eagle Battalion.. They took their all to the Central Catholic High School Military Skills meet against 16 JROTC programs from across the region. Krista Gutierrez took charge of the unarmed drill team and led them to finishing 2nd overall. They also finished 2nd and 3rd places in two sub categories of the competition. As for the male and female physical fitness teams, they both finished 1st place! Of the male team: Captain Valdemar Herrera, Roman Martinez, Rion Ochoa, and Jayden Herrera. Of the female team: Captain Alyssa Castelar, Yasmeen Diop, Abigail Hotchkin, and Lillian Krause. Both teams competed their hearts out and it definitely showed in the end! Honorable mention to the Academic Bowl team that finished 4th out of 18 teams. Alana Moczygemba, Hailey Yoho, Mason Outland, and Lane Ciomperlik did a phenomenal job representing our school!
The Pleasanton High School JROTC is honored to announce that one of our very own cadets, Krista Gutierrez, was selected to receive the Military Officers Association Scholarship! She worked extremely hard to gain this award of $1,000 to help with future endeavors. They look forward to seeing what amazing things Krista will accomplish!
Pleasanton High School's JROTC program continues to stay on the move, participating and helping everywhere they can. On April 11th, the Eagle Battalion Color Guard presented the colors at the Special Olympics in Poteet. They continue to show their neverending honor in all that they do. 
One last congratulations to the most recent Eagle Battalion Cadets and NCO of the month. Cadet CPL Justine Resendez and CPL Madison Nunley were selected for Cadets of the month based on their hard work. Cadet Staff Sergeant Jealousey Oliva was announced NCO of the month of April. A huge congratulations to all and, keep up the good work JROTC!