By: Letizia Perrino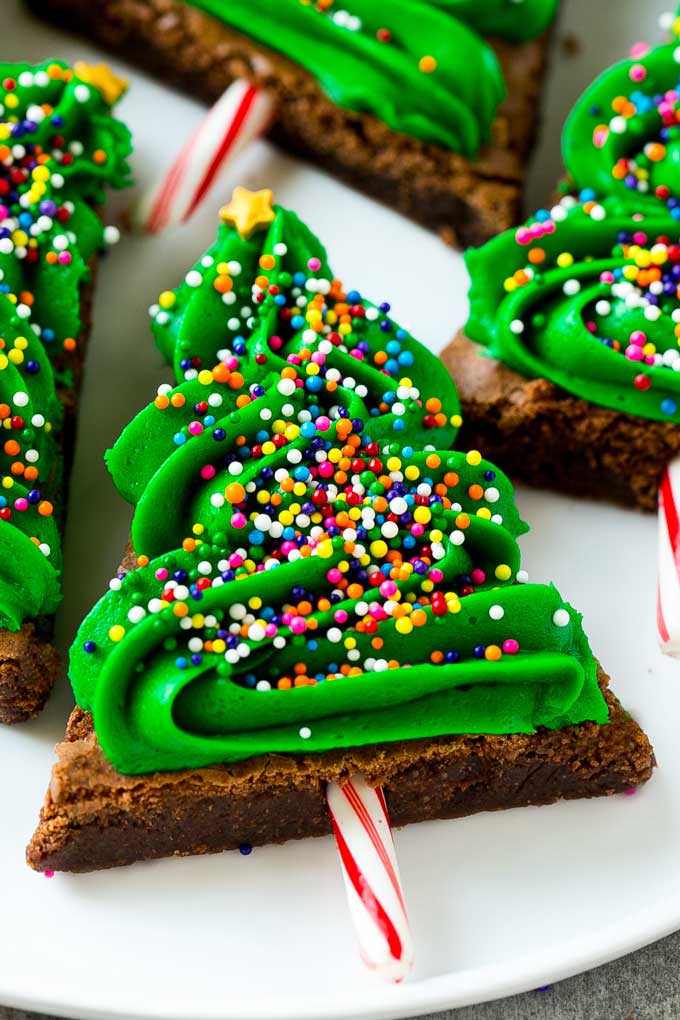 Christmas break is near and if you're afraid of getting bored, here's an easy sweet treat that will amaze your parents and is the perfect solution for you!
These are the ingredients you will need:
For the brownies:
Cooking spray

1/2 cup butter

8 ounces of semisweet chocolate chips

1 1/2 cups granulated sugar

4 Eggland's Best eggs

1 teaspoon vanilla extract

1/2 teaspoon salt

3/4 cup all purpose flour
For the decorations:
16 small candy canes

16 gold star sprinkles or candies

1/3 cup rainbow sprinkles

2 cups green frosting 
Here are the steps for creating the perfect sweet treat:
Preheat the oven to 350 degrees. Line a 9×13 pan with foil and coat it with cooking spray.

Place the butter and chocolate chips into a large bowl. Melt in the microwave – heat for 30 second intervals and stir between each interval until butter and chocolate are melted and thoroughly combined.

Stir in the sugar, then stir in the eggs, one at a time, whisking until smooth after each addition. 

Stir in the vanilla extract. Gently fold in the salt and flour.

Pour the batter into the prepared pan and bake for 25-30 minutes or until a toothpick inserted into the brownies comes out clean.

Cool the brownies to room temperature, then chill for at least 30 minutes.

Using the edges of the foil, remove the slab of brownie from the pan. Using a sharp knife, cut the brownies into 16 triangles.

Snap the curved parts off the candy canes and insert the straight parts of the candy canes into the bottom of the brownies.

Place the frosting in a piping bag fitted with a plain or star tip, or a resealable plastic bag with the tip snipped off. Pipe approximately 1 1/2 tablespoons of frosting onto each brownie.

Place a star sprinkle at the top of each brownie, then add rainbow sprinkles all over each brownie.

Serve, or store, covered, in the refrigerator for up to one day
Here's a little advice for the frosting: 
You can of course buy it or you can make an amazing homemade one!
Here are the steps for a delicious homemade frosting:
1 cup unsalted butter, softened 

3 1/2 cups powdered sugar

 2 teaspoons vanilla extract

2-3 tablespoons milk or cream

green food coloring gel.
Beat butter with a mixer until light and fluffy, 2-3 minutes. 

Turn the mixer to low speed and gradually add powdered sugar.

 Add vanilla extract and 2 tablespoons of milk or cream, beat until smooth and creamy. You can add more powdered sugar if you desire a thicker consistency, or add more milk for a thinner consistency. 

Add green food coloring until desired shade is reached.
This is the recipe for your amazing Christmas sweet treat, we hope you will like it. 
Merry Christmas, enjoy!