By: Alex Richter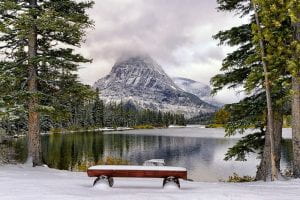 It's Christmas Day, the clouds are dominating the majority of the sky. My boots are on and my scarf tucked under my sweater so that it doesn't fly away, I see young children running and playing in the snowy grass. Unlike my friends who are outside, I don't have siblings. My parents were set on me being the  ¨golden child¨. I am an 11th grade student that goes to Elfwood High, a small school in the northern part of the country United Kingston. 
On the horizon, the Mahogany Forest. My destination, the Lakewood Creek, which is in the town just to the North of mine. Kicking open my big wooden door, I step out onto the grass, feeling snowflakes fall softly onto the top of my head. I start to calmly walk through my town, waving at friends and heading into the sunset.
Staring and analyzing into the woods, I hear a soft voice giggle. It sounds like a child playing, but I didn't think children would be interested in playing in the dimly-lit woods of mahogany trees. I stop in my tracks, staring at the small snow-filled path ahead of me. A child is visible within 10 feet of me, he is wearing a green hat, and a green and white striped shirt with white pants and green elf shoes. I look at his ears, and strangely enough, they're pointed. "If it isn't the one, the only…", the elf starts. "Karl Jerome Brown!", another identical elf next to him says. "How do you know my name? And what are you?"I reply to their strange remark. "We are the elves of Christmas," one says, "the ones that you praise in Elfwood," the other finishes.
What an odd statement. We don't praise elves in Elfwood, it's only the town's name. "If you'd excuse me, I'm only trying to-" I say. "Get to the little creek located in Lakewood," the first elf interrupts me. "It's only about a few miles ahead, is it not?" he asks. "Yes, but I do not wish to be escorted, I'm only trying to spend my Christmas in peace, please," I reply to the elf. "But what if we wish to escort you?", one tells me. "Fine…", I say. 
That's all it took before I blink and find myself far from where I expected to be, there is nothing visible around me other than the grassy horizon and the sun in the sky. The so-called elves were nowhere to be found, I didn't know where I was at all, and something deeply rooted in my brain felt wrong. The sun glares its rays into my eyes, which then start to tear up. I look away, to not look directly at it, but it's far too late for that. I looked down at my hand, which appeared sparkling, as if it was set ablaze by the hot ball of fire in the sky. 
I wake up, in the woods where I was before. The elves stand in front of me, glaring, as if mad or upset with me. Except, the elves were not good elves at all, they had 'Coal' printed on the back of their uniforms. These are mere coal-working elves that work giving children coal if they were bad on Christmas. "You," the first elf starts, "are," says the next, before they pause while looking at me in awe. "MAGIC!", they both shout simultaneously. 
Magic? "Prove it," I say to the elves. "Step into the light," one starts, "then surely you'll see," the other one finishes. Do all elves finish each other's sentences or are they just crazy? Stepping into the light I start to speak, "See? Nothing-"
BOOM! An explosion comes out of the sun itself, whooshing through the air until it hits me right in the chest. I feel a numbness, until I feel something on my back, as if I'm wearing a backpack, or in my case, two backpacks. I have wings, they are feathery and white, which emit light in the orangy-red sunset.
"What are these?", I ask the Christmas elves. "They let you fly when you work with training the reindeer," Why on Earth are reindeer important, or related to the fact that I´ve just sprouted wings in the sky? "What do you mean?" I ask. "You're magic-", the first one starts. The second one finishes by saying, "Therefore you're coming with us." I scoff, "Why exactly?"
The elves look at each other mischievously and smirk before looking back at me in union. "You do want to work at the Christmas Factory with us, don't you Karl?"