By: Ariana Johnson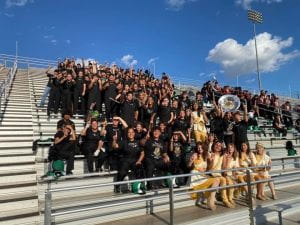 Anticipating the upcoming marching competition, Mr. Solis stated "I worried the most about overworking our band members. The band has added additional sectional rehearsals this year and I know many of our students participate in other activities as well." 
Those extra rehearsals have paid off as The Mighty Eagle Band's weekly performance at the football games have improved by the week, as well as the marching contest. On October 1st, the band went to the Judson Rocket Review and they placed 5th and were right behind 4 state qualifying bands. The same day they also went to a second competition at Harlandale HS and they placed 2nd out of three bands and got a trophy for their hard work.
The third and final practice contest was the US Bands Ludwig Musser Classic, and the Eagle Band was competing against 4-5A bands and the Mighty Eagle Band placed 3rd. Mr. Solis had started this year with high expectations for the band, and they will continue to set the bar even higher so they can reach new heights as they progress throughout the year. "Our main goal this year is to earn a 1st Division "Superior" rating at UIL and advance to Area competition." The band directors are really proud of the band as they were one of the only two bands that got all ones from each judge. Pearsall is a state-qualifying band and Pleasanton was able to match their performance with equal talent.
The Mighty Eagle Band will be going to Calhoun on October 29th, for Area and are positive that they will make it to finals at Area as they have whole band has been working hard and know where they want to go.
As Marching Band is happening, Jazz Band has been practicing their music and they have a full schedule planned ahead of them. He stated, "We have had an average of 13-15 jazz band members every year. I'm happy to say this year we have 22 in our Jazz Band. We have a full schedule of performances scheduled for the Jazz Band. In addition to these performances, we are planning to take our group to compete at a Jazz Festival in the Spring."
We wish you all good luck to both the Marching Band and the Jazz Band, PHS Journalism staff hope that both bands will do great at their contest and performances. Pride, Pride!