By: Courtney Henson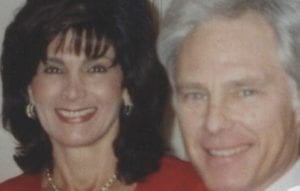 Dr. John Baxter Hamilton of Oklahoma City met Susan Baxter in 1985. When they met, they were both divorced with 4 kids between the two of them. Soon after, the couple married and settled into a very privileged life. John worked locally as a respected obstetrician-gynecologist (OBGYN) at his own clinic, where Susan began working reception part-time. 
The couple was married for 14 years and seemed to be deeply in love. Known for being a romantic, John often showered his wife with expensive gifts and holidays. On Valentine's day in 2001, John left the house early in the morning to perform an operation. He returned home midday to exchange gifts with Susan before returning to work but instead returned home to find Susan's dead body. John called 911 saying, "Please send police. Please send an ambulance, please, I think my wife is dead." He told the operator he was trying CPR. "Please send somebody quick," 
As police arrived on scene they could clearly see that Susan had been strangled and had experienced severe blunt force trauma to the back of her head. The weapon used to enforce this trauma was never found. Police also were having problems with how hysterical John was on scene. He was covered in his wife's blood and screaming for help. At the scene of the crime there was no evidence of forced entry, nothing was stolen from the house or off of Susan's body, and no footprints or fingerprints were found. 
Police had no suspects initially. They began to think that possibly Susan had been killed by one of the anti-abortion protestors who frequently threatened John's clinic as well as the family personally, but no evidence led to this. Soon, John became the prime suspect in the murder. John told the police he had tried to perform mouth-to-mouth but there were no obvious or even traces of blood on John's face despite the severe injury to Susan's head and face. 
Police also found the Valentine's day car Susan had given John that morning, it read, "I bought this two weeks ago, so I guess maybe it doesn't seem as appropriate. But I do love you. Have a good day. Susan" Her words made the police and the public question whether the marriage was as perfect as it seemed. Some of the couple's friends revealed that the couple had been fighting recently over suspicion that John was having an affair. Friends also said that Susan had confided in friends that she was considering a divorce. 
John was arrested and charged without bail. On the ride to the police station, John was scraping his knuckles on the mesh divider as if trying to hide an injury on his hands. 
During the trial in December of 2001, it came out that Susan's blood and skin were found on John's steering wheel. Also, it was revealed that when Susan's family was going through her stuff, they discovered jewelry stuffed in her laundry as if to look like it had been stolen. Prosecution argued that the blood splatter on John's shows was consistent with an 'alive' Susan, whereas the defense argued that the bloody splatter was consistent with John's story of trying to save Susan. After the defense brought a blood expert to the trial, he testified that there was blood on the inside of John's cuff that was likely to have been as a result of John striking a blow to Susan's head. 
It took the jury a short two hours to find John guilty of first-degree murder. Later, John was sentenced to life in prison without a chance of parole. The motive of the murder is likely the fact that Susan wanted a divorce but John did not agree. John continues to appeal his conviction but has not been successful. John was transferred to the state penitentiary in McAlester where he still resides today. Susan is laid to rest in Chapel Hill Memorial Gardens Cemetery in Oklahoma City, Oklahoma.