By: Alexandra Garcia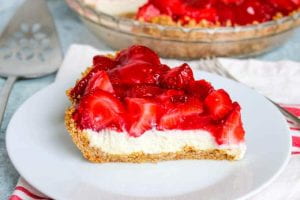 Wanna satisfy your sweet tooth while keeping your kitchen with these no-bake strawberry desserts ?.. Try the Strawberry Pretzel Pie. 
This cool no-bake Strawberry Pretzel Pie is the perfect way to satisfy a sweet tooth. Made with pantry staples and as easy as pie. It becomes one of the favorite sweet treats around.  The strawberry pretzel pie has lots of ingredients added into it such as… butter, sugar, lemon juice, marshmallow creme, and cream cheese. Reviews of this sweet treat are quite good although most of the reviews recommend adding strawberry whipped cream cheese or just taking out the cream cheese. Of course, everyone has their own opinion of this delicious treat. 
Ingredients 
4 cups of miniature pretzels

6 tablespoons butter, melted

¼ cup of sugar

¾ cup boiling water 

1 package (6 ounces) strawberry gelatin,1 pound fresh strawberries, hulled, divided  

¼ cup of lemon juice

1 jar (7 ounces) marshmallow creme

⅔ cup of whipped cream cheese (not necessary) 

⅔ cup sweetened condensed milk  
Directions to the strawberry pretzel pie
Place pretzels in a food processor; pulse until chopped. Add butter and sugar; pulse until combined. Reserve ⅓ cup of pretzel mixture for topping. Press the remaining mixture onto the bottom of a greased 9-in. Springform pan. Refrigerate 30 minutes or until you feel like it's enough.

Meanwhile, in a bowl, add boiling water to gelatin; stir for 2 minutes until completely dissolved. Stir in lemon juice. Refrigerate for 30 minutes, stir occasionally.

Chop half the strawberries; slice the remaining berries and reserve for topping. In a large bowl, beat 1 cup of heavy cream until stiff peaks form. Beat marshmallow creme, cream cheese, and sweetened condensed milk into cooled gelatin mixture until blended. Gently fold in chopped strawberries and whipped cream. Pour into the crust. 

Refrigerate, covered, until firm, 4-6 hours. Beat remaining 1 cup heavy cream until stiff peaks form; spread over pie. Top with reserved strawberries and whipped and pretzel mixture.
Nutrition Facts
1 piece: 350 calories, 19g fat (12g saturated fat), 56 mg cholesterol, 284mg sodium, 39g carbohydrates (30g sugars, 1g fiber), 4g protein.