By: Noah Ramos
It's that time of year again when the temperature starts to drop and we scramble to get last minute gifts for family and friends while also getting into the Christmas Spirit. If you haven't gotten a gift for that certain someone yet then I have a gift you can make at home that your family will surely love to receive this year.
Hot Chocolate Snowman
This gift is sure to leave a sweet taste in your mouth when you use it.
Steps: 
Grab 3 small empty jars, Black marker, small cloth, object that resembles a hat.

Add hot chocolate mix, mini marshmallows, & any other sweets in the jar.

Stack them up & make facial features & whatever decorations you want to add.

Repeat.
Chocolate kisses tree 
This is a good way to get your family members with a little prank
Steps:
Get some chocolate kisses, square chocolates, construction paper, & ribbon.

Fold the construction paper to make a big triangle then make small ones to make sure the kisses are separated inside the big triangle.

Make the base at the bottom as a square & add the square chocolate in there.

Tie the ribbon around the big triangle and place the big triangle on top of the base.
Homemade snow globe
Sometimes it just takes a couple things around the house to make a gift.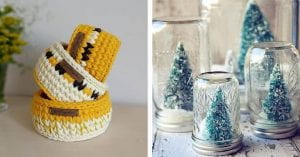 Steps: 
Get a jar, fake snow, mini trees, & glue

Glue the tree to the inside of the jar lid and put some fake snow in the lid too.

Then screw back on the lid and you have yourself a homemade snow globe.

Repeat.